A Motley Mission
Your Motley Mission this time is to practice your Secret Agent Skills!
We've provided a list of the items you'll need for each Mission…or you can have us send you a Crafting Pack with (almost) everything included!
Fingerprinting
Everyone in the world (except identical twins) has a unique set of fingerprints! Since your fingerprints can identify you, Secret Agents must be careful not to leave fingerprints behind.
In this activity we're going to look at our own fingerprints and then learn how to dust for fingerprints around the house!
Responsible Adults Beware: This is a MESSY activity using fine powder.
You Will Need:
A pencil (the softer the better — a #2 or HB gives good results)
Transparent tape (shiny is better)
A white index card or piece of paper
For dark-on-light fingerprints:

Another white card
Cocoa powder

For light-on-dark fingerprints:

A dark piece of paper (black gives the most contrast)
Corn starch or baby powder

A blush brush (it should wash)
Hand lotion to make prints better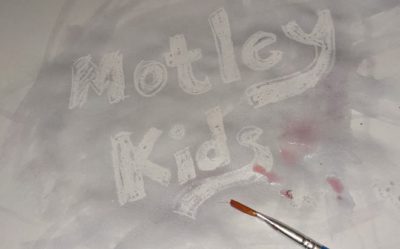 Secret Writing
Secret agents need to be able to send secret messages. One of the ways to keep your secrets secret is to use invisible ink.
In this activity we're going to make some invisible ink with kitchen supplies and practice your secret message skills!
Responsible Adult Notes:

This can get messy (grape juice stains!)
You may need to help with certain inks that require heat to develop.
You Will Need:
A paintbrush or cotton swab
Paper to write on
Lemon juice
An iron (and a Responsible Adult to help iron)
Baking Soda
Water
Grape Juice (the purple 100% grape kind)
White crayon
Small bowls to mix your inks in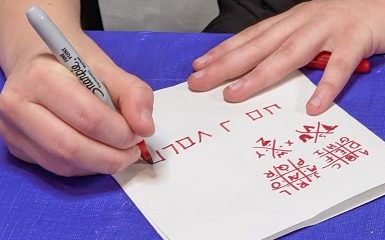 Secret Codes
If writing with invisible ink isn't secretive enough, there is always the option of using a secret code or cipher to disguise your message.
You've already learned about one cipher when you deciphered the message left behind by B.O.R.E.D. – but there are many more!
In this activity we're going to learn about some easy codes and ciphers you can use to keep your secrets secret.
You Will Need:
A writing utensil (pencil or pen)
Several sheets of writing paper
Scissors
Two paper towel or toilet paper tubes
Transparent tape
A flashlight